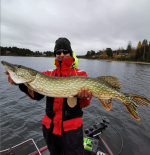 Name: Tomas Gabriel
Fishing guide since: spring 2020
Company: High Coast Fishing
Hemsida: highcoastfishing.se
Instagram instagram.com/highcoast_fishing/
Mail: tomas@highcoastfishing.se
Phone: +4670-6052330
County: Västernorrland
Municipality: Örnsköldsvik
Water: Örnsköldsvik archipelago
Fishing methods: Spinning
Fish species: Pike
Season: 1:st May - November
Language skills: Swedish and English
Hello!
What I offer is spinfishing and jerk bait for pike in Örnsköldsvik's magnificent archipelago.
I guide, instruct and take you in my boat Nitro Z7, which is fully equipped with sonar from "Humminbird" and
Motorguide electric motor. I supply all fishing equipment and life jackets. Coffee is included and lunch can be
arranged if you wish.
I have been fishing since the 1990s, when it was mostly salmon and seatrout. After that it went to pikefishing
around the Stockholm archipelago and the lake "Mälaren". In 2010, I moved to "Örnsköldsvik" and here it has
been mostly been fished pike. I start my fishing as soon as the ice is released and until it settles, so because of
that I have learned why the pike chooses certain places depending on the season, weather, wind direction and
more and then it is easier to guarantee a successful fishing day.
Every year I also go to Norway to fish halibut and cod.
In recent years I have competed in pikefishing.

Do not hesitate to contact me if there is something you wondering about and feel free to ask any questions as you like.

"I am a strong supporter of ethical sport fishing and personally run according to the catch and release method"
Guide Season
1 may to November