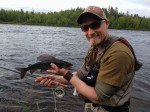 Name: Jesper Larsson
Fishingguide Since: 2001
Company: JL Guiding and Consulting AB
Webbsite: www.jlguiding.com
@-mail: guidejesper@gmail.com
Phone: +46(0)730 47 31 78
Province / State: Norrbotten - Lapland
City: Pajala
Waters: Muonioälven, Lainioälven, meny smaler lakes, streams and Private waters.
Techniques: Flyfishing (one and two handed), spinning and icefishing
Species: Grayling, Trout, Salmon, Pike, Perch, Whitefish
Language: English , Swedish, Finnish and some German

Instagram: @guidejesper
More about Jesper Larsson
My name is Jesper Larsson and I have worked as a Professional instructor and fishing guide since 2001 and I am teaching Fishingguide since 2003.

I have been working as a professional fishing guide since 2001 in Swedish Lappland. Here I have been guideing in different rivers like Muonio, Lainio, Torne, Kalix, Meras and in many fifferent lakes.

I have been Teaching fishing guides in Sweden since 2003 and now i am Head coach for Kiruna Fishing School

Fishing and outdoor life have been a natural thing in my time growing up. I started to practice fishing when I could hold a stick in my hand. I started fly-fishing and fly tying for real the year 1990 when I got my first fly-fishing equipment and first fly-tying kit. I have been active in all different kinds of fishing methods. Everything from sea fishing too jerkbait fishing. I always take the best of all different fishingmethods too make my fishing better.

Fishing and Guiding is my lifestyle. Tight lines and have a nice time outdoors.

// Your Guide and Instructor Jesper Larsson
.
Guide Season
January - December depending on technique and destination.