On this site we recommend different educations, Courses ans Schools in Sweden!
Below you will find the Fishingguide and Fishing Tourism schools that we recommend and have cooperation with in the country.

Many of the students who attended these schools and the programs they offer get offers and currently work in the industry with various specializations like fishingguides, instructors, Rover keepers, Project Managers, Fish Reporters and in tackle shops nationwide.

See more information on each school in the left menuand below:
kiruna fishing school - Kiruna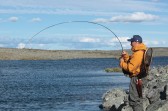 About:
The school is located in the land of midnight sun, Kiruna.
Far up in the northern part of Sweden. Close to the town you have six thousand lakes with pike, perch, trout, grayling, arctic char and other popular game fish. You also find seven free floating rivers with big salmons and tricky trout that will give you a challenge.
If you love fishing and still want to have near to a town with restaurants and pleasant people. Kiruna is the place for you! This is a new start in your life! Soon are you a professional fishing guide with the whole world as a working place!

Contakt and more Information: HERE
ForshagaAkademin - Forshaga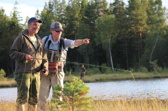 Description:
Sportfishing Academy in Forshaga offers education för you who want to work within the expansive sport fishing industry. The school offers both a 3-year high school education within the agricultural sector with national recruitment and one 2-year-old polytechnic where 1/3 of the training is conducted as practice in companyes both in Sweden and abroad. Both courses suitable for those who want to work with sportfishing, fish conservation, tourism and entrepreneurship.
We are working closely with the sportfishing industry to offer high quality education!

Contact and more information: HERE
Älvdalens Utbildningscentrum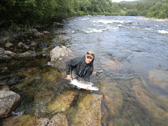 Description:
Make your hobby your profession! The Sport Fishing Educational Program is a three-year high school education which focuses on all kinds of sport fishing.

Contact and more information: HERE