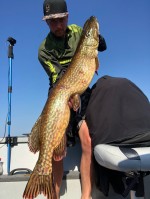 Name: Jonas Andersson
Company: Blekinge Fiske guide
Webbsite: www.blekingefiskeguide.com
@-mail: jonas@blekingefiskeguide.com
Phone: +46(0)705477108
State / Province: Blekinge
City: Olofström
Waters: Karlskona Acipelago, Ivösjön, Harasjömåla, Åsnen mm
Tequnices: Spinning, Vertikal, Flyfishing
Specias: Pike, Walleye, Perch, Rainbow Trout, Trout
Languages: Swedish and English
More about Jonas Andersson
My name is Jonas Andersson and I started my real fishing when I lived in Gothenburg, where I fished a lot of sea trout with fly but after a while I started working at Gbg's best fishing tackle Tajtlajn, and my fishing started right there.

But the best pikefish started when I moved back to blekinge and started taking 10kg after 10kg pike, both on spin and vertical fishing. I carry 80% of the time on vertical fishing after rough pike and gosh. I have taken 11th pike over 10kg and a top of 13.36kg and 120cm long. The lake I carry the fish in holds really big fish and it's very rare to take a small fish. The lake has a good depth of 53 meters and you are fishing for the pelagic pelagic.

Both spin and vertical fishing are fun, and since I have the privilege of working with Garmin, I have their latest electronics in the boat and there is a live range where you find the fish very easily, you see 30 meters in front, 25 meters to the sides and 15 meters behind the boat, so you scan the water very well.

I'm driving all the predator fishing and something I love. The fish is high, but at the same time I want to keep the prices down as I think everyone can book a guided fishing trip with us.